Well now that its official and we have launched our new Paperback Films website, logo and name we wanted to not only thank some of the people who helped us along the way, but also to share the experience of rebranding and merging business's.
Our rebranding process was exciting as we were thinking about it all summer and fall.  Our two solo companies (Radtke Studios and Epic Videography) worked together for most of 2010 and it was looking like a rebrand would be in order to achieve the quality of product we were after.  How and why did this even happen in the first place you ask?  Well, back in the summer 2009 we agreed to meet and discuss if there were some possibilities of working together as it was looking like our goals and product ideas were headed in the same direction. 2010 started off great with our first "Same Day Edit" and the rest was history after that.  The process was challenging, but it was very clear that working together was far exceeding our original goals and our skills were complimentary.
I have to explain to you that Mark and I had no clue how to tackle the large task of rebranding and merging our two businesses. By no means do we claim to be experts, but at the same time we figured jumping in head first would be the best way to learn how to go about the process. Coming up with a name was probably one of the hardest things to do. It took us close to two months, hundreds of "trial" names and countless hours of deliberation before we even came close to something we both liked. It wasn't until Mark and I were having dinner with my wife Becky at Moxie's where it hit us! Just like that, in a matter of seconds we decided on Paperback Films. She asked us the right questions, which challenged us to realize what we liked and disliked.  Thanks Becky!
Once we had the name, we thought the rest would be easy. Not even close! We now needed to decide what our logo would look like. We hired Emma Roberts who desinged our logo. She was great to work with throughout the whole process as we broke down what was important to us. I think it was especial gratifying to go through this process because it put us on the opposite side of the creative process. A side our couples are usually on. We now understand how much trust is required when you hand over creative control :)! Thanks Emma, we really appreciated your help and we love the logo!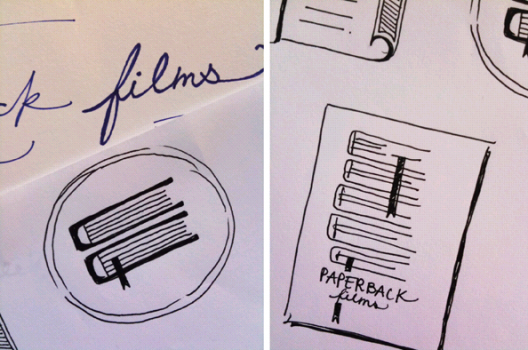 Paperback Films has come from years of hard work and experience we gained from our prior solo companies. Now all our efforts it can be focused on under one name.  We are so excited for the future and have been blessed by so many people, both in the industry and couples who hire us.  All the hard work going into Paperback Films is worth it!  Thanks to all those who have encouraged us along the way and we are looking forward to the direction Paperback Films is headed.